While the Imdadkhani gharana of sitar & surbahar is known after Ustad Imdad Khan, its origin can be traced back to his father, Sahebdad Khan of Etawah, and is, therefore, sometimes known as the Etawah gharana. Sahebdad Khan was the inventor of the surbahar and his forefathers past down their family's music for generations from the 16th century Moghul courts. However, it was Sahebdad's son, Imdad Khan, who came to be known for his innovative sitar and surbahar style, which led to the gharana being named after him. Imdad Khan was a court musician at Indore and his two sons, Inayat Khan and Wahid Khan, followed in his footsteps.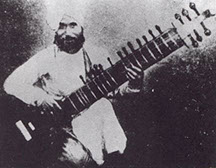 In fact, it is Inayat Khan, in particular, who introduced the playing of the khayal gayaki style on the sitar. Inayat Khan was appointed as a musician in the court of the Maharaja of Gauripur, although he was mainly based in Calcutta.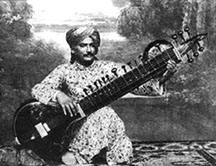 Inayat Khan's sons, Vilayat Khan and Imrat Khan, further polished the vocal style of sitar playing. Moreover, following their father's death, the two brothers also received musical training in khayal on their maternal side from their grandfather, Ustad Bandeh Hassan Khan, uncle Zindeh Hassan Khan, and mother, Bashiran Begum. Imrat in particular received training on the surbahar from his paternal uncle, Ustad Wahid Khan. As a consequence, the family's playing style was strongly influenced by vocal music and this lead to the development and perfection of the khayal gayaki ang.